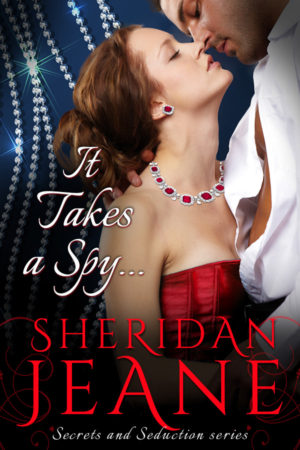 It Takes a Spy
A sumptuous ball ~ A disastrous theft ~ A rollicking chase.
London, 1851 – When Cecilia's wedding is canceled after her dowry is stolen, it's up to her to catch the thief. Get your copy of the 1st book in the Secrets and Seduction Series at your favorite retailer using the links below.
About the Book
Glittering jewels. A sumptuous ball. A daring theft.
London, 1851 – Cecilia Paring is having second thoughts…
Cecilia Paring has serious reservations about marrying her fiancé, Devin Montlake. Gone is the boy who could capture her heart with a word or a glance and in his place is a man who has made it clear that to be a proper barrister's wife, the exciting and impulsive Cecilia must change as well.
Devin Montlake has his life planned out…
Although Devin Montlake loves his orderly life as a barrister, he's determined to follow his roadmap to achieve his goal of becoming a judge. His biggest obstacle seems to be convincing his headstrong fiancée to fulfill her social obligations with a modicum of propriety.
And then everything goes wrong…
When the jewelry collection belonging to Cecilia's family is stolen the night before it is to be auctioned off and Devin is framed for the crime, he discovers that following his much-loved rules won't solve this particular problem. He'll need the inventiveness of his irrepressible fiancée to catch the thief.
Note from the author:
My books aren't edgy or stomach-churning. If you're looking for something dark and twisty, go elsewhere. If you're looking for something to take your mind off the world for a while and leave you feeling a bit better about life, then this is the book for you!
+ This is not a cliffhanger. Each book's hero and heroine have their own complete romance and HEA (happily ever after). Characters from the books will reappear throughout the series but in supplementary roles.
++ The romance scenes in this book are explicit, but not frequent.
Other Products in "Secrets and Seduction"
Disclosure of Material Connection: Some of the links in the page above are "affiliate links." This means if you click on the link and purchase the item, I will receive an affiliate commission. I am disclosing this in accordance with the Federal Trade Commission's
16 CFR, Part 255
: "Guides Concerning the Use of Endorsements and Testimonials in Advertising."